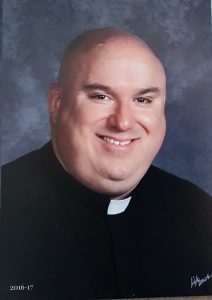 Fr. Anthony Camilleri
Pastor
My brothers and sisters, welcome to St. Charles Borromeo parish in Newport, Michigan. Our parish was founded in 1838 and has served the Catholic community in the region since that time. We are a very active parish including a pre-K through 8th grade school along with several ministries and parish organizations. We are blessed to have had Perpetual Adoration in our Eucharistic Adoration Chapel for over 25 years.
Please join us as we celebrate God's love for us in the Mass. All are welcomed!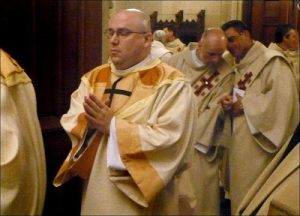 BIO
My name is Father Anthony Camilleri. I grew up in the Farmington area with one older sister Terri. I attended the Religious Education Program at Our Lady of Sorrows church in Farmington. When I was in High School, my family moved to Highland Township and my home parish became Holy Spirit in Highland Township. I attended Orchard Lake St. Mary's Prep for High School and this is where my vocation story begins.
After religion class one day, my teacher asked me, "Have you ever thought of becoming a priest?" I let out a loud laugh at the very idea. But the teacher persisted and asked me to ask God, five minutes before every mass I attended and 5 minutes after, "What do you want me to do with my life?" I attended mass several times a week with my class mates at St. Mary's and also with my parents at Our Lady of Sorrows and Holy Spirit on Sundays. As a result of this prayer time, I did feel that I might have a call to a priestly vocation.
In my senior year of high school, I checked into Religious Orders and found they wanted their candidates to have a bachelor's degree. I decided to attend Central Michigan University. The idea of a religious vocation stuck with me. I decided to call the Vocations Director for the Archdiocese of Detroit. I had some great conversations with Fr. Bob Fisher, the Vocations Director at that time. Fr. Fisher invited me to come for a discernment weekend at the Seminary. I had a wonderful weekend and was convinced that the priesthood was God's plan for me.
A visit to Fatima in the spring of 2003 let me know that God's plan for me was a religious vocation. I met a priest, who initials are also AC, but his name was Fr. Alphonse Camilleri. He is not related to me, but Fr. Alphonse Camilleri is also Maltese. Fr. Alphonse Camilleri is a retired Jesuit missionary who works at Fatima part of every year and spends eight hours a day in the confessional hearing confessions in several languages. Fr. Alphonse Camilleri spoke to me as a spiritual grandfather and gave me this advice on how to be a good servant for God and God's people:
1) Have a deep relationship with Jesus.
2) Pray often in front of the Blessed Sacrament.
3) Pray the rosary and ask for the Blessed Mother's help.
I felt that meeting Fr. Alphonse Camilleri was no chance encounter and it has strengthened my commitment to this vocation. I think I was guided by the Holy Spirit. I have a devotion to the Blessed Mother and feel that she has had her hand on me since I was a child, especially since I attended Our Lady of Sorrows and St. Mary's Prep. In addition to my pilgrimage to Fatima, I was able to visit Lourdes and the Shrine of Our Lady of Guadalupe in Mexico.
I come to St. Anne and St. Charles from St. Anastasia in Troy and feel very blessed to be here. With your help, we will continue to grow and strengthen our parishes.
God Bless,
Fr. Anthony Camilleri
Father Anthony's favorite part of being a priest is celebrating the sacraments, especially the Holy Mass and baptism. Meeting with parishioners to help them celebrate the sacraments such as marriage and funeral preparation, and reconciliation is also a true joy. Anytime that he has an opportunity to meet with people, he is happy. One of the parts that he struggles with as a priest is the many administrative meetings that he must lead.
Father Anthony's greatest joy is celebrating the sacraments, visiting the children in the school and occasionally teaching in religious education classes. One of the greatest challenges in his life is finding balance between prayer, ministry, and administrative duties in his life. He looks for different ways to refresh his ministry to keep it strong and vibrant.
As a child, Father Anthony says that the late Father Leo from the Church of the Holy Spirit in Highland Township where his family moved to when he was 18 years old but where his grandparents had lived for years. Father Leo was the one that he looked to in the beginning of his discernment as a model of priesthood. He always had joy when he would talk to the children and young adult and always had encouraging words to say, always offering prayers for himself and his family. Another mentor of his is Father Brian who was his pastor when he was a transitional deacon before being ordained a priest. They would talk about several things going on in his parish and ask him several questions and he would help Father Anthony with his thought process and where he thought God would want him to do. Finally, the late Monsignor Bill Easton was a strong source of guidance and encouragement and joy. He truly attempted to invite priests over for dinner and welcome his brothers, always wanting everyone to know that they were welcome. Father Anthony could talk to him about anything from personal, to administrative to spiritual topics and every day that he spent with the men in this assignment were truly gifts from God.
Father Anthony enjoys photography, travel, and Notre Dame athletics – especially football. He loves to cook, especially pizza and various soups.
Father Anthony has been assigned to Saint Joseph, Lake Orion, the National Shrine of the Little Flower Basilica, Saint Anastasia, Troy and presently serving at Saint Charles and Saint Anne's in the Monroe Vicariate.
Father Anthony would give three pieces of advice to those discerning priesthood, pray daily in front of the blessed sacrament as much as possible, pray the Rosary and build your relationship with Our Lady and allow the Holy Spirit to move your heart to do the will of The Father.